Home
/
[Sports&Outdoors]Teeter FreeStep Recumbent Cross Trainer and Elliptical
[Sports&Outdoors]Teeter FreeStep Recumbent Cross Trainer and Elliptical
---
About this item
LT3 PREMIUM FEATURES: Upgraded UltraGlide Bearings promise long-lasting frictionless motion for fluid start up and stride transitions; SoftStep Pedals with durable grip surface for added traction and control; Larger ComfortSelect Seat with more positioning options; SureGrip handles with high-grade polyurethane coating for unmatched durability.
ZERO-IMPACT EXERCISE: Ideal for all fitness levels. The naturally-reclined seated position eliminates stress on the joints and back and reduces body fatigue while delivering a total body, fat-burning cardio workout. A great exercise option for those with Arthritis, Parkinson's or MS.
WHISPER-QUIET, FLUID STRIDE: The natural striding motion follows a smooth, linear path to protect your knees and joints. With 13 levels of smooth magnetic resistance, a simple turn of the dial takes your workout from zero to intense.
TOTAL BODY WORKOUT: Dual power motion works your upper and lower body simultaneously, engaging all major muscle groups to build strength and burn more calories. Modify the workout by isolating your legs or arms for added intensity.
COMMERCIAL-GRADE ENGINEERING: Friction-free linkage system means long-lasting use; Low-profile 54" x 38" footprint.
---
Product Description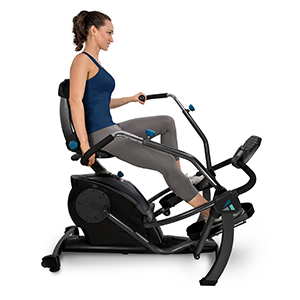 The Most Effective Low-Impact Cardio Workout
Free yourself from the pain normal exercise can cause! The Teeter FreeStep brings a new level of ease to exercising in your own home with a stress-free, zeroimpact cardio and strength workout. FreeStep takes the load off your back and joints, elevating comfort beyond traditional ellipticals, treadmills, and steppers while delivering exceptional calorie-burning results. Its patented stride technology is engineered to protect the knees, with a natural stepping stride that follows a smooth, linear path.
Using dual power motion, the FreeStep distributes muscle exertion throughout the body. Shift from working hard with your legs to focusing on your arms, so you can exercise longer without getting tired. Your workout will feel easier while burning more calories for faster results.
Features at a Glance
Zero-Impact recumbent workout, safe for your knees, hips, and back

Achieve a calorie-burning total body workout, or isolate upper or lower muscle groups

Adjustable design fits your body perfectly for varying positions and intensity

Affordable, in-home physical therapy solution
Our patented technology, licensed from a maker of high-end commercial physiotherapy steppers used by PTs, offers the same gentle, effective motion but in an affordable home-use solution. The FreeStep is the ONLY home-use machine with this unique linkage system.

Simply put, the FreeStep offers a superior low-stress, low-impact cardio and resistance workout at a fraction of the cost of the comparable commercial equipment.

The unique motion of the FreeStep sets it apart from other recumbent options which can actually be hard on your body for two reasons: 1) a cycle motion can cause knee shear (ouch!) and 2) the motion can add sway to the hips, destabilizing the hips and lower back.

*In a Consumer Perception Survey, participants used the FreeStep twice for 710 minutes each session. 93-97% of participants concluded the FreeStep delivers gentle, lowimpact exercise for the knees, hips and back, and is less stressful on the knees and back than other cardio options.

Incorporating both upper and lower body distributes muscle exertion to avoid muscle burn out. Your workout feels easier, while burning more calories.

The linkage system between the upper and lower body is perfectly synchronized for smooth comfortable motion. No drag or popping motion found in typical seated full body equipment.

The FreeStep gives you a full-body workout that surpasses the benefits and calorie-burn of regular gym equipment so you can save time with better results, AND exercise at your convenience in your own home, day or night.

At the same level of effort, the FreeStep burns 17.4% more calories per hour* – you'll burn the same amount of calories in 5.8 workouts as 7 workouts on a recumbent bike!

*Colorado Center for Health & Sport Science found a significant difference in energy expenditure comparing the FreeStep with a recumbent bike.
From our expansive library of on-demand classes, access your favorite workouts with any iOS or Android device - any time! Our certified trainers make working out fun, motivating you to reach your potential with classes that vary in length, fitness level, and workout type. Simply press play and discover how good exercise can feel!
Engineered for Performance, Tested to Last
Zero-Impact Exercise. Total Body Results.

Protect Joints with Patented Stride Technology - Unique stepping motion prevents the knees from traveling over the toes and stabilizes the back and hips for an exceptionally stress-free workout.

Burn More with Dual Power Motion - The push-pull mechanics of the FreeStep promote a total body workout, building more lean muscle so you can continue fat burning long after your workout.

Build Definition with Muscle Targeting - Isolate legs or target unique muscle groups in your upper body by varying intensity and changing grip position.

Adjustable Settings for Comfort

Reclining Seat - Select from 3 recline settings to position your body for optimal posture, muscle engagement and comfort.

13 Levels of Variable Resistance – Adjusts from level 1-13 with a simple turn of the dial to accommodate a range of ability levels. Friction-free magnetic resistance ensures a smooth feel, virtually silent operation and long-lasting performance.

Seat Height - Easily set height with the spring-loaded adjustment knob to achieve a gentle, neutral stride motion.

Handle Adjustments - Target different muscle groups with the rotating handle settings.

Feature Rich, Smart Design

Digital Console with Smart Device Stand - Listen to music or read from your device while monitoring your time, distance, speed and calorie-burn.

Transport Wheels - Conveniently roll away for easy storage.

Water Bottle Holder - Keep hydration within reach.

Heavy-Duty Mat Available - Perfectly-sized to fit the FreeStep, protects floors and keeps dust and debris from accumulating in and around the FreeStep.
LT3 Premium Feature Upgrade

ComfortSelect Seat - With a 27% thicker cushion and 12% increase in surface area, the seat features two mounting points so you can customize its position to fit your needs. Select from 3 recline settings.

LT3 Premium Feature Upgrade

SoftStep Pedals - With a rubber (TPR) tread overlay, the pedals offer a softer yet durable grip surface for added cushioning, traction and control.

LT3 Premium Feature Upgrade

SureGrip Handles - High-grade rubberized coated handles provide enhanced grip and durability over the standard foam-wrapped handles, with a sweat-resistant surface that is easy to clean. Target different muscle groups with the rotatin