Home
/
[Baby&Kids]Licensed Car with Mp4 Touch Screen
---
Description
The children's car is equipped with a soft eco-leather seat and plastic wheels that will provide smoothness and noiselessness to the car. Ride on the car will delight your child because it is so similar to an adult car of the brand. A beautiful shiny exterior and an open-top make the model very stylish. The speed of the kid's car reaches 3-4 mph. Both your and your child can listen to music that is controlled by an MP4 touchscreen media system. In addition to the standard recorded melodies, you can record your own or even play cartoons for your child. A kid can drive himself/herself, or can simply enjoy a trip while parents control it using a remote. There is no need to worry about safety because there are safety belts – all the features as in an adult's car. The electric car is equipped with plastic wheels and the front ones are driving.
---
Weight & Dimensions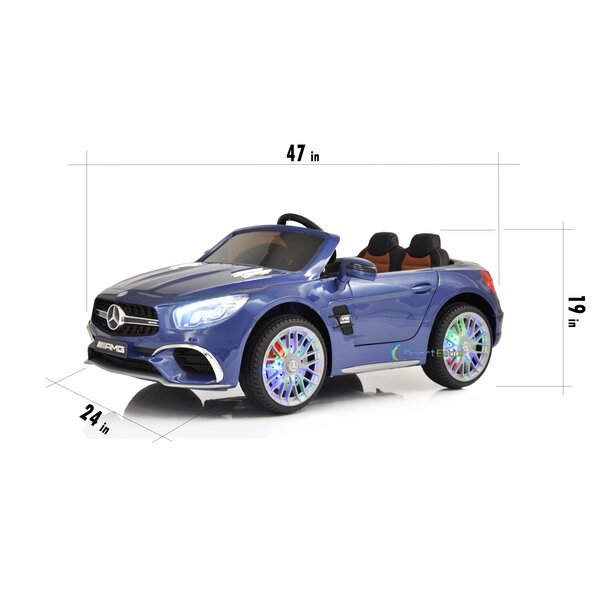 Overall: 19.50'' H X 28.2'' W X 47.2'' L
Overall Product Weight: 46 lb.
---
Specifications
Features:
Product Type: Battery Powered Ride On
Primary Material: Plastic
Durability: Water Resistant
Maximum Speed: Greater than 3 mph
Age Group: 3 to 4 Years; 5 to 6 Years
MP3/USB Port: Yes
Outdoor Use: Yes
Seating Capacity: 1 Seater
Wheels Included: Yes
Number of Wheels: 4
Seat Belt Included: Yes
Brakes Included: No
Lights Included: Yes
Cab Enclosure: No
Battery Required: Yes
Number of Batteries Needed: 1
Battery Type: 9-Volt
Batteries Included: Yes
Rechargeable Batteries: Yes
Battery Charger Included: Yes
Voltage: 12 Volt
Battery or Battery Included: Yes
Weight Capacity: 66 lb.
Specifications:
CPSIA Compliant: Yes
Toy Safety Warning Required: Yes
Toy Safety Warning: WARNING: CHOKING HAZARD - Small Parts. Not for children under 3yrs.
Assembly:
Assembly Required: Yes
Installation Required: Yes
---
Customer questions & answers
Q:"Where can it be suitable to be ridden if not on the grass or gravel?" asked by Mikelyn
A:"It can be ridden on low grass or paved surfaces."
Q:"Where can I find the battery specification?" asked by Natasha
A:"The battery specification can be found on the battery itself or in the instruction manual."
Q:"When do I have to change the battery?" asked by Natasha
A:"It is recommended to change the battery after 6 months."
Q:"What is the recommended age group?" asked by Dabrelle
A:"The recommended age group for this car is 3 to 6 years old."
Q:"How to connect with the controller?" asked by Kentricca
A:"To pair the remote, kindly turn off the car. Then on the remote, hold both forward and reverse buttons for about 3 seconds (you should get a light blinking), then start your car."
Q:"Does the car have USB features?" asked by Salome
A:"Yes, the car has USB features."
Q:"Does the car have SD card input?" asked by Salome
A:"Yes, the car has an SD card input."
Q:"Does the car have MP3 input?" asked by Salome
A:"Yes, the car has an MP3 input."