Home
/
[Baby&Kids]Lamborghini Sian Ride On Car 12V Kids Electric Motorized Vehicle With Led Lights, Remote Control & Scissor Doors
[Baby&Kids]Lamborghini Sian Ride On Car 12V Kids Electric Motorized Vehicle With Led Lights, Remote Control & Scissor Doors
---
Description
Kids are always attracted by motor racers who create great visual shock through astonishing skills in driving. And this Lamborghini Sian fkp37 ride-on electric car is exactly what we developed to enhance children's bravery, confidence, and motor skills in daily life. Characterized in realistic bodywork and exquisite details, it will bring your child everything they like for thrilling yet fascinating driving fun, such as gear shift, speed adjustment, bright car lights, stirring engine sound, security feeling, etc. It can also be operated with a remote controller, adding additional happiness when your kid is playing with friends. Tobbi toys, accompany your kid in growth!
Features:
Officially licensed, this Lamborghini Sian KFP37 ride-on electric car is designed with elaborate bodywork, LED head and tail lights, hydraulically supported scissor doors, a back-lit dashboard, and realistic wheel details.
The car could be driven by kids independently with the steering wheel and the acceleration foot pedal. If your child is too young or you want to enhance interaction with your baby, you can take over it with the remote controller as well.
Push the starting button and the power will be on with simultaneous engine sound, which brings an immersive driving ambiance. The buttons on the steering wheel control the car horn. Your child could honk at pet dogs if they obstruct the car.
With the help of the 3 points adjustable safety belt, your child will safely sit in the ergonomic seat. Crafted with safe PP plastic, the car bodywork is sturdy and durable, totally certificated by ASTM and F963 CPSIA.
---
Weight & Dimensions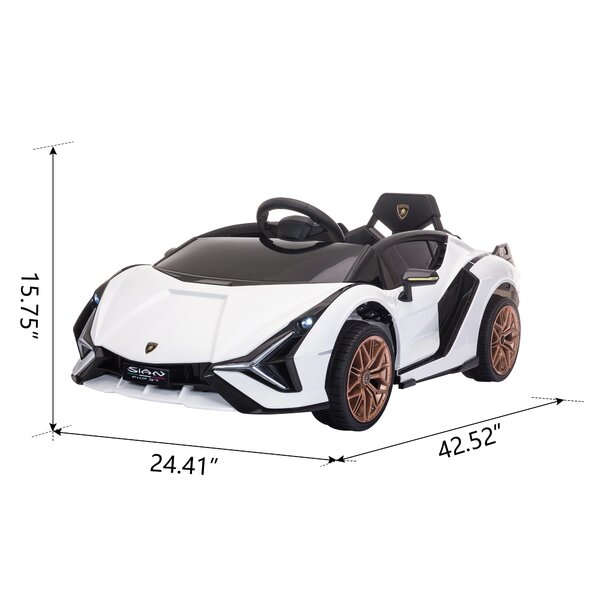 Overall: 15.75'' H X 24.41'' W X 42.52'' L
Overall Product Weight: 28.66 lb.
---
Specifications
Features:
Product Type: Battery Powered Ride On
Primary Material: Plastic
Durability: Water Resistant
Maximum Speed: 5
Age Group: 3 to 4 Years; 5 to 6 Years
Outdoor Use: Yes
Seating Capacity: 1 Seater
Wheels Included: Yes
Number of Wheels: 4
Seat Belt Included: Yes
Brakes Included: No
Lights Included: Yes
Remote Control Included: Yes
Cab Enclosure: No
Battery Required: Yes
Number of Batteries Needed: 2
Rechargeable Batteries: Yes
Recharge Time: 12 hours
Battery Charge Duration: 1 hours
Battery Charger Included: Yes
Voltage: 12 Volt
Plug-In: Yes
Weight Capacity: 55 lb.
Specifications:
Assembly:
---
Customer questions & answers
Q:"What are the age groups?" asked by Lindsy
A:"The age groups are 3 to 4 years; 5 to 6 years."
Q:"What is the seating capacity of this item?" asked by Linda
A:"The seating capacity of this item is only one (1)."
Q:"What is the voltage of the battery?" asked by Jaydee
A:"The voltage of the battery is 12 V."
Q:"What is the voltage required?" asked by Jaydee
A:"The minimum voltage required for this ride-on car is 12 volts."
Q:"Is a battery included?" asked by Anonymous
A:"No."
Q:"The battery takes 12 hours to charge but it only lasts one hour?" asked by Mike
A:"Yes, for the first using the battery must be charged for 10-12 hours."
Q:"What is the age recommended?" asked by Daelynn
A:"This item is recommended for children age 3 to 6 years old."
Q:"Does this car have headlights?" asked by Jessica
A:"This car has LED head and tail lights."