Home
/
$49.98 FOR A SET OF 5Quilted Rolling Underseat Tote
If you want to carry your essential items and travel in style and comfort, then the compact and stylish quilted tote bagis the travel bag you need. It is an "easy-breezy" travel companion that is compact and comes loaded with friendly features that aren't finical. It is made from a "highly durable" polyester fabric featuring a quilted diamond pattern.
It has plenty of pockets to help you organize your travel essentials just the way you want it. The retractable top handle accompanied by a dual set of extra top handles and free moving rolling skate (in-line) wheels will ensure smooth hand toting as you travel.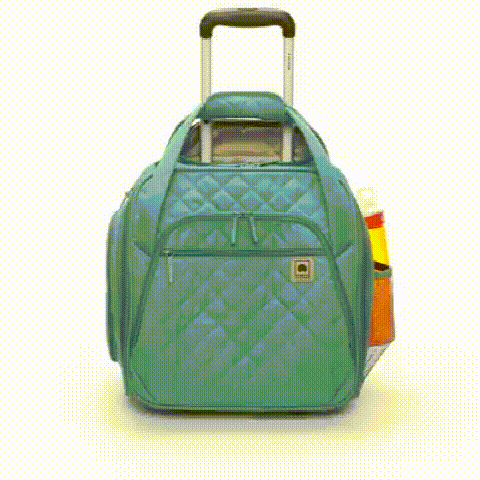 Inside this exquisitetravel bag, you will find a capacious main compartment that has plenty of pockets (foam padded) that will provide protection for your valuables. On the backside, there is a "slip-through" band that will enable you to slip thistoteover the handles of upright luggage.
Numerous interior pockets.

Spacious main interior compartment.

Elegant quilted exterior and a vibrant colorful internal lining.

Foam padded interior for protecting your valuable items.

Slip through band for securely attaching onto larger suitcases.

Secure locking handle (recessed).

Readily accessible front organizer.

Side pockets for holding magazines or water bottles.

Small enough to fit in most airplanes (overhead bins and under the seat).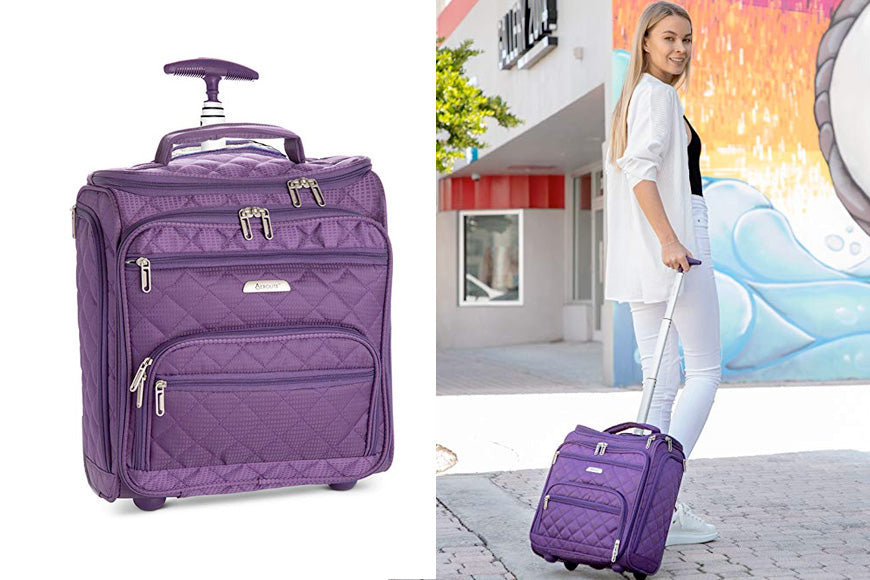 I was actually surprised by how much room the interior of this bag has to offer. It can hold enough stuff to last you a couple of days which can be useful for those long journeys that we have to make from time to time You can carry quite a few clothes and an extra pair of shoes should the need arise.
Apart from that, it has plenty of interior small pockets which you can use to fit in your toiletries and electronics. Since the interior pockets are foam padded, you won't have to worry about any damage to your iPad/laptop or other fragile items/electronics
Perhaps you are the consummate business lady that has to travel frequently and are looking for a stylish travelling bag. TheDelsey Quilted Rolling UnderSeatToteis one of the few travel bags designed to suit women. This tote rolls easily and is light hence it will suit any woman since women will avoid cumbersome and heavy travel bags.
Apart from that, it is exquisitely quilted and has a beautifully colored lining just the way most women would love it The fact that it has many pockets is also a big bonus because it will enable women to fit all their essential travel accessories without the need for extra bags.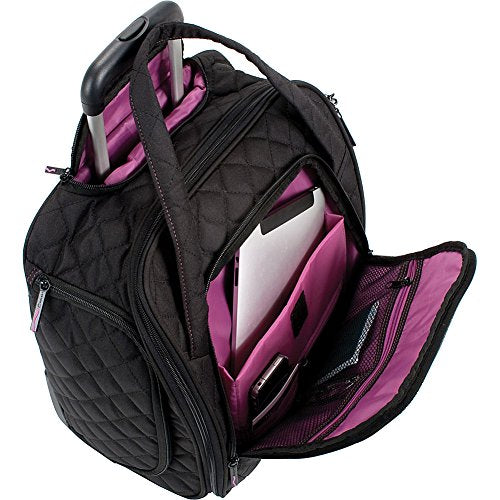 Functional
After a recent back injury, I began searching for atravel bag(particularly for flights) that is compact but at the same time functional. After looking through various travel gear options, this one emerged as the winner. It has functional pockets which enable me to maximize on space but at the same time, I can easily access the various pockets from any position.
Despite not being square, the top is still flat enough to use with a purse. This bag is really well made and so far appears to be the most functional as compared to others. This means that I won't incur any other injuries due to hauling/lifting.
Size
If you are a frequent flier like me, you want a travel bag that will comply with most of the major domestic airline carry-on size restrictions. United, Delta and American carry on maximum size restrictions are 22" x14"x9" (HxWxD). Keep in mind that the wheels are included in the measurement. This travel bag from Delsey measures 14.5" x14x9" therefore you don't have to worry about size restrictions with this travel companion.
You will never miss people who try to sneak in oversized bags onboard leaving no room for people like me who comply with the size rule. The good thing about this bag is that it will comfortably fit under the seat of most airplanes and you don't have to check it.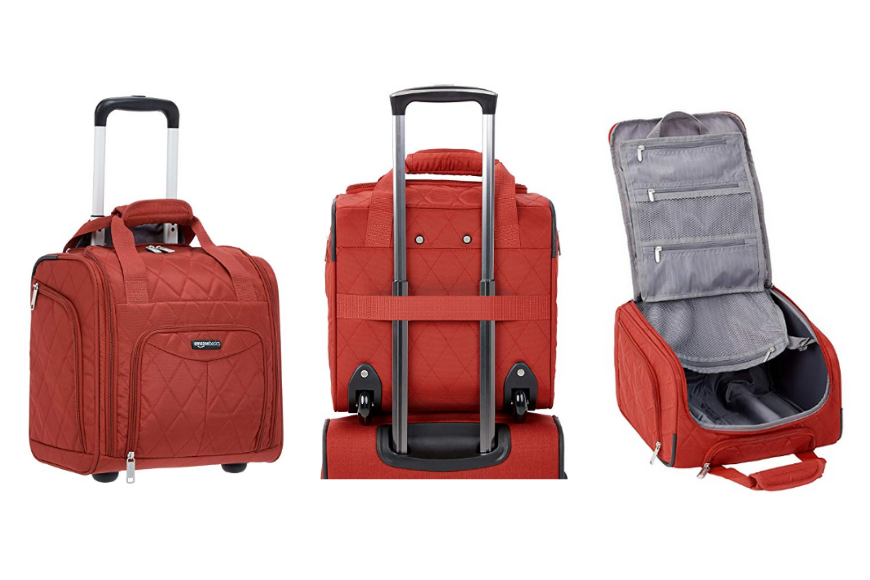 Durability
You want to have a reliable travel bag that is durable and can withstand the rigors of frequent travels. Initially, at first glance, I thought that this bag was fragile. It appeared too fragile to even check but to my surprise however, I have found that theDelsey Quilted Rolling Under SeatToteis one of the most hardy travel bags in the market.
It is made from very high quality durable polyester. You may come across travel bags that are durable at the top but very fragile at the bottom. Not this bag. It has a very sturdy bottom hence you don't have to worry about the bottom wearing out faster than the rest of the bag.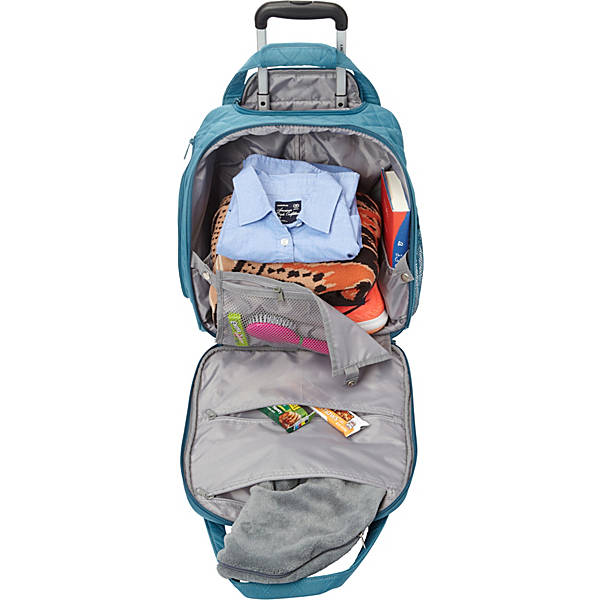 Easy Organization
You like to be organized at all times even whilst travelling. If you are like me, then you will find that this bag is one of the easiest in terms of organization. It has an easily accessible front organizer where you can place your snacks, passport, ticket and other items which you may readily need at your disposal.
Since the interior is quite spacious and has many interior pockets, you can easily pack and organize your items to suit your travelling requirements. If you are a business person who is always travelling, you won't need to spend extra dollars on a purse.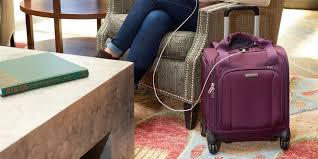 AFTER-SALESERVICE
We offer 100% satisfaction guarantee, 40-day back moneyguarantee and 2-year warranty.
We have 24/7/365 Facebook Messenger and Email support.
Shipping takes7-15 Daysdepending on location.
SALES ENDING SOON